Tori and Mabelle talk with married playwrights Rehana Lew Mirza and Mike Lew about the playwright-parent balance; the importance of asking for what you need (and what your productions need); and the evolution of "Bhangin' It: A Bangin' New Musical." Scroll down for info on our Bhangin' It tickets giveaway happening on our Instagram.
Writing Prompt (courtesy of Rehana Lew Mirza)
OBJECT PROMPT (a multi-part writing exercise).  Ground yourself, take a deep breath, then think of an item from your childhood. It can be any item. Try to activate all of your five senses as you write a description of the item. After a minute, imagine a character holding the object. What are they thinking? Feeling? What is their relationship to the object. Then have another character enter the room. They want the object. Now write the scene.
Connect with Rehana:
Connect with Mike:
Rehana's bio:
Rehana Lew Mirza's previous collaborations with La Jolla Playhouse include serving as the 2018/19 Artist-in-Residence and a commission for The Colonialism Project (both with Mike Lew). Her plays include: Hatefuck (2019 production at Colt Coeur and WP Theater); A People's Guide to History in the Time of Here and Now (Primary Stages commission; workshop production: AMDA); Soldier X (productions: Ma-Yi, Brooklyn College; 2015 Kilroys List; NYSCA/Lark commission); Tomorrow Inshallah (Storyworks/HuffPost commission; production: Living Room Theater, Kansas City); Neighborhood Watch (NNPN/InterAct commission); and Barriers (productions: Desipina, Asian American Theater Company). Honors include: Kleban Award, NYFA Fellow, Colt Coeur Company member, HBO Access Fellow, Lilly Award (Stacey Mindich "Go Write A Play") and a TCG/New Georges Fellowship. She and Mike also share a Mellon Foundation National Playwright residency administered in partnership with Howlround at Ma-Yi Theater. M.F.A.: Columbia University; B.F.A.: NYU Tisch.
Mike's bio: Mike Lew is beyond thrilled to return to La Jolla Playhouse, his hometown theatre. Previous collaborations with the Playhouse include serving as the 2018/19 Artist-in-Residence and a commission for The Colonialism Project (both with Rehana Lew Mirza), and the west coast premiere of his play Tiger Style! (also at Olney, Huntington and Alliance). His other plays includeTeenage Dick (Ma-Yi at the Public, Donmar Warehouse, Woolly Mammoth, Artists Rep); Bike America (Ma-Yi, Alliance) and microcrisis (Ma-Yi, InterAct, Next Act). He and Ms. Lew Mirza are joint Mellon Foundation Playwrights-in-Residence at Ma-Yi Theater. Mike is a Dramatists Guild Council member, Tony voter and New Dramatists resident. Honors: Guggenheim, Lark Venturous and NYFA fellowships; Kleban, PEN, Lanford Wilson, Helen Merrill, Heideman and Kendeda Awards. Education: Juilliard, Yale.
Supplementary literature about/by Rehana and Mike: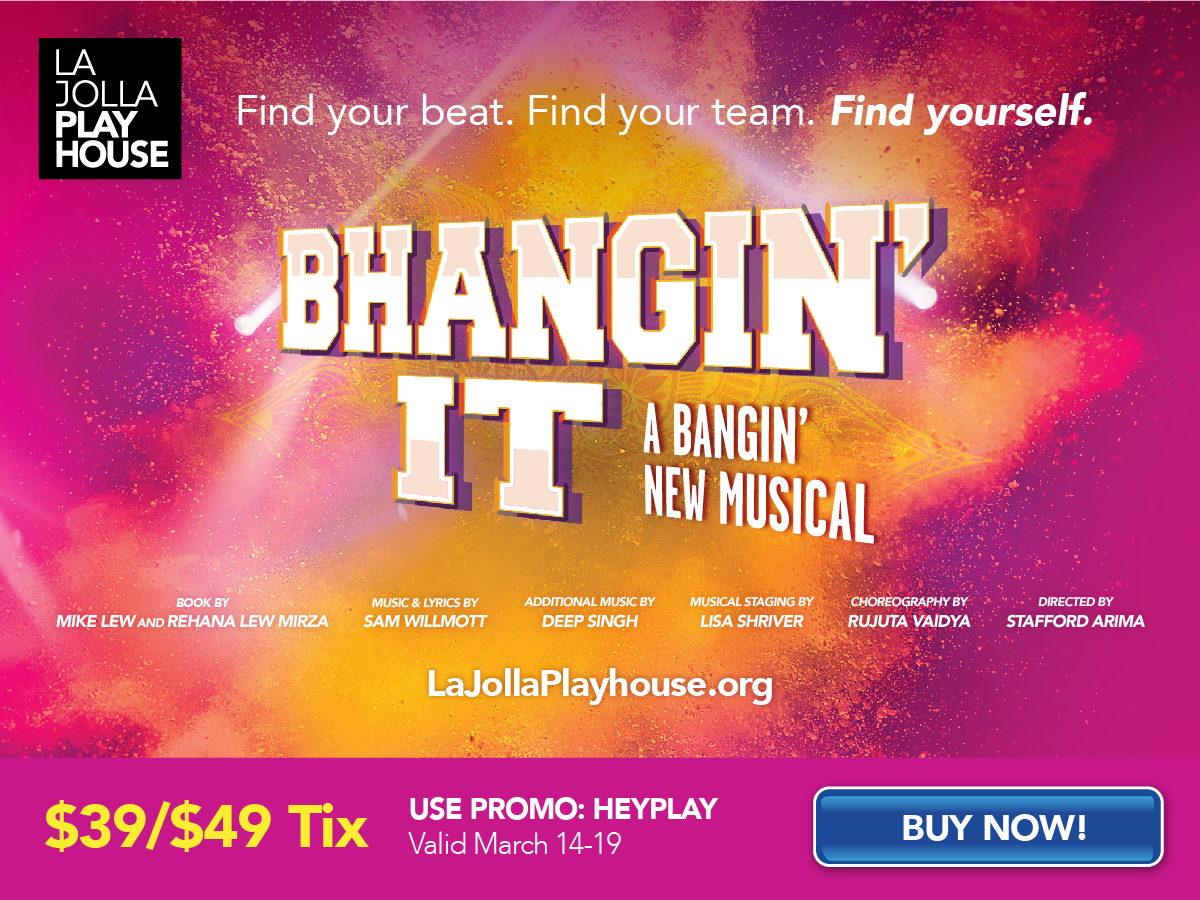 Want to win tickets to Bhangin' It?
Win FREE tickets to "Bhangin' It: A Bangin' New Musical" @ La Jolla Playhouse! Two winners will be chosen to win a pair of tix valid for show dates March 8-April 17, 2022 (excludes all Saturday evening performances and special events). Be entered to win by doing the following:
Follow us on Instagram @heyplaywright
Like the post for this episode
In the comments section, post the name of the object you chose for Rehana's writing prompt
Tag two people who you think would benefit from our podcast
Deadline to enter: Sunday, March 6 @ 12pm PT.
We'll do a random drawing for the two winners and announce the results by Monday, March 7th!
Discount tix for "Bhangin' It: A Bangin' New Musical," book by Mike Lew and Rehana Lew Mirza at La Jolla Playhouse: 
Valid for Performance Dates: Tuesday, March 15 – Saturday, March 19
Promo code: HEYPLAY
To apply your discount, insert promo code in the top right box of purchase page.
Price: $49 for Area 1 Seating, $39 for Area 2 Seating
Playwrights Welcome
Check out Playwrights Welcome on the Dramatists Guild website: https://www.dramatistsguild.com/search?keys=playwrights+welcome