Tori and Mabelle talk with Alvaro Saar Rios about his journey from the Army to playwriting, saying "yes!" and celebrating the voices of his community through his plays. Other topics include the importance of reading contracts, his approach to adaptations and what his death metal band taught him about storytelling.
Writing Prompt (courtesy of Alvaro Saar Rios)
Impossible Stage Directions.  Write the most impossible stage direction you can come up with. Alvaro often starts his writing workshops with this exercise. Then, as students write their scenes, he asks them to put that impossible stage direction into their scene. He wants to challenge you to use your imagination. What you think is impossible can still be put on stage and can be pretty fantastic! Allow other theatre-makers to dream big and find ways to make those stage directions a reality.
Connect with Alvaro:
Website: https://alvarosaarrios.com/about
IG: @realcrazymex
Twitter: @realcrazymex
Sign up for Alvaro's "The Texican Chisme" E-letter:  http://eepurl.com/hKLScn
Listen to some death metal here: https://alvarosaarrios.com/thy-lord
Alvaro's bio:
Alvaro Saar Rios is a Texican playwright and educator living in Chicago. His plays have been performed (professionally or by teatristas doing it out of pure love) in New York City, Mexico City, Hawaii, Chicago, St. Louis, Milwaukee and all over Texas. He has received playwriting commissions from various organizations, including Kennedy Center, Chicago Children's Theatre, First Stage, Houston Grand Opera, Honolulu Theatre for Youth, Alley Theatre, Purple Rose Theatre Company, Express Children's Theatre, Milwaukee's United Community Center, Talento Bilingüe de Houston, Houston Community College, and Zoological Society of Milwaukee.
His award-winning play Luchadora! is published by Dramatic Publishing Inc. Other plays include Blue Bullets, On The Wings of a Mariposa, The History of Mexicans in 10 Minutes, The Day the Music Came Back, Brown Only, and Piggsville, a quasi-adaptation of Shakespeare's Hamlet. He co-wrote the virtual musical Unmuted with composer Debbie Wicks La Puma. He is currently adapting Matt de la Peña's New York Times Best Seller Carmela Full of Wishes, a co-commission for Chicago Children's Theatre and The Rose Theater in Omaha.
Alvaro holds an MFA in Writing for the Stage and Screen from Northwestern University, a BA in English–Creative Writing from the University of Houston and an AA in Communications from Houston Community College. He is a Resident Playwright at Chicago Dramatists and Playwright-In-Residence at Milwaukee's First Stage. Alvaro is also a proud veteran of the US Army. He used to drive M1A1 tanks.
Rios co-founded The Royal Mexican Players with his wife, Michelle Lopez-Rios. Since 2004, they have created original scripted and devised plays, which include The Crazy Mexican Show, A Trip Through the Mind of a 'Crazy' Mexican, and One Hot Texican Summer (or the summer I found out I was Mexican). They have also developed workshops for high schools, colleges and conferences, including Texas A&M University, Palo Alto College, Voice & Speech Teachers Association, the Association for Theatre in Higher Education and the Texas Thespian State Festival. Their work has been seen in London; Bogota; Washington, D.C.; Houston and Denver.
Alvaro is also an Associate Professor of Playwriting at the University of Wisconsin-Milwaukee, where he mentors aspiring theatremakers who hope to make a space for themselves. He recently created New Dramaworks, a series geared at introducing undergraduates of various disciplines to the process of new play development.
Read Tony Diaz's book "The Aztec Love God":
http://www.uapress.ua.edu/product/Aztec-Love-God,2714.aspx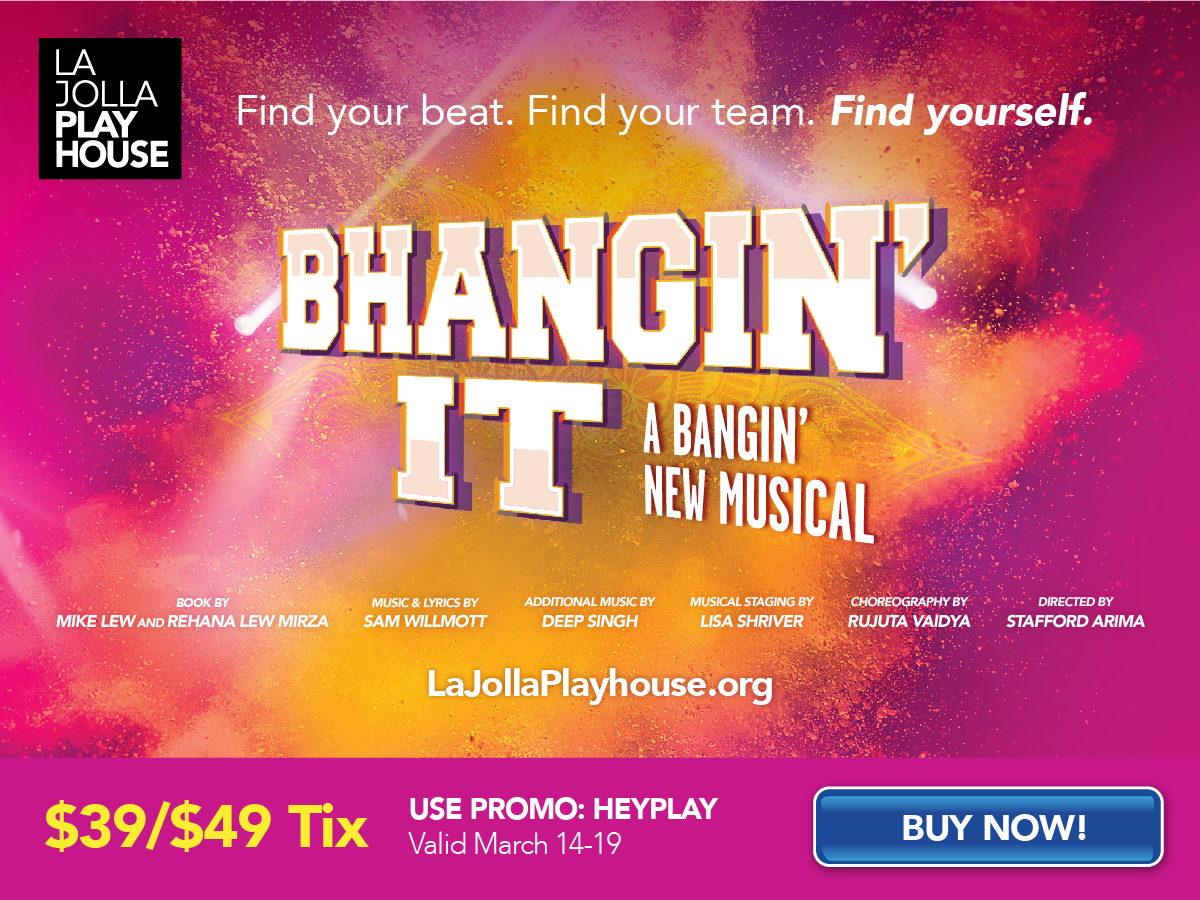 Discount tix for "Bhangin' It: A Bangin' New Musical," book by Mike Lew and Rehana Lew Mirza at La Jolla Playhouse:
Valid for Performance Dates: Tuesday, March 15 – Saturday, March 19
Promo code: HEYPLAY
To apply your discount, insert promo code in the top right box of purchase page.
Price: $49 for Area 1 Seating, $39 for Area 2 Seating