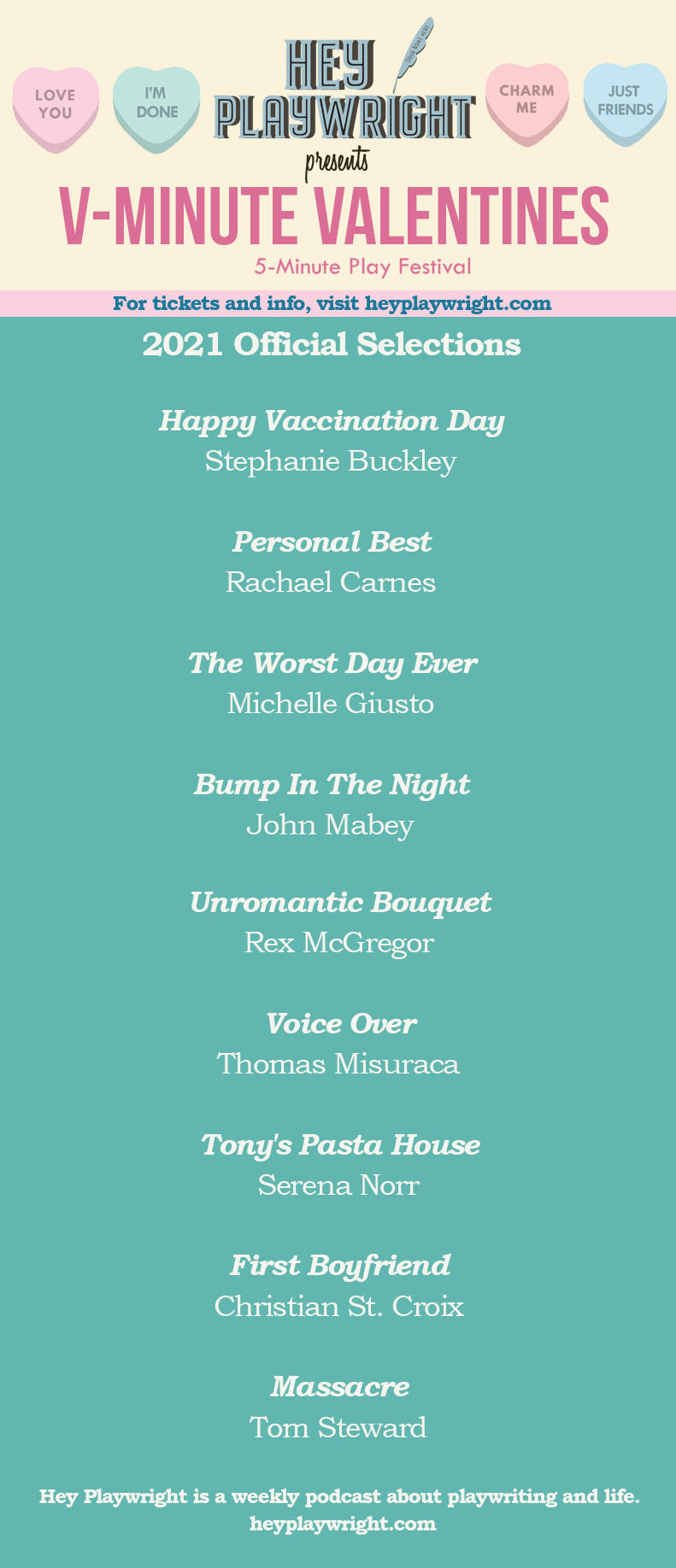 We are doing another festival just in time for Valentines Day!
Join us on Saturday, February 13, 2021 for the V-Minute Valentines Festival. The winning scripts will be performed live on Zoom at 7PM PT.
To register (it's FREE), click here.
Thank you to all of the wonderful playwrights who submitted. (Scroll down to see the list of winners, finalists, and honorable mentions.) We were overwhelmed with the loveliness, heartbreak, and imagination in the works that you shared with us. Special shout out to those of who requested and wrote from the prompts we gave you. And if you didn't get a chance to participate this time around, we've got another one coming later this year.
We hope to see you on Saturday!
2021 V-Minute Valentines Official Selections


Happy Vaccination Day
Stephanie Buckley

Personal Best
Rachael Carnes

The Worst Day Ever
Michelle Giusto

Bump In The Night
John Mabey

Unromantic Bouquet
Rex McGregor
Voice Over
Thomas Misuraca

Tony's Pasta House
Serena Norr

First Boyfriend
Christian St. Croix

Massacre
Tom Steward

Congratulations to our winners!

2021 V-Minute Valentines Finalists
Potion of Love
Jodi Antenor

Carbon-Based Life Form Seeks Similar
Andrew Biss

Hey 2B
Sarah Congress

Pregnant in Peace
Stephanie Gajeski

Change Jar
Starry Krueger
Two Pigeons…
David Lipschutz

Truth Be Told
Pamela Morgan

Drama
Scott Mullen

A.V.A.
Ken Preuss

Possum
Peter James Stavros
Honorable Mentions
#BeBest
Thelma Virata de Castro

Here Flamingoes Nothing
Jeff Dunne

The Medallion
Khaled Sultan